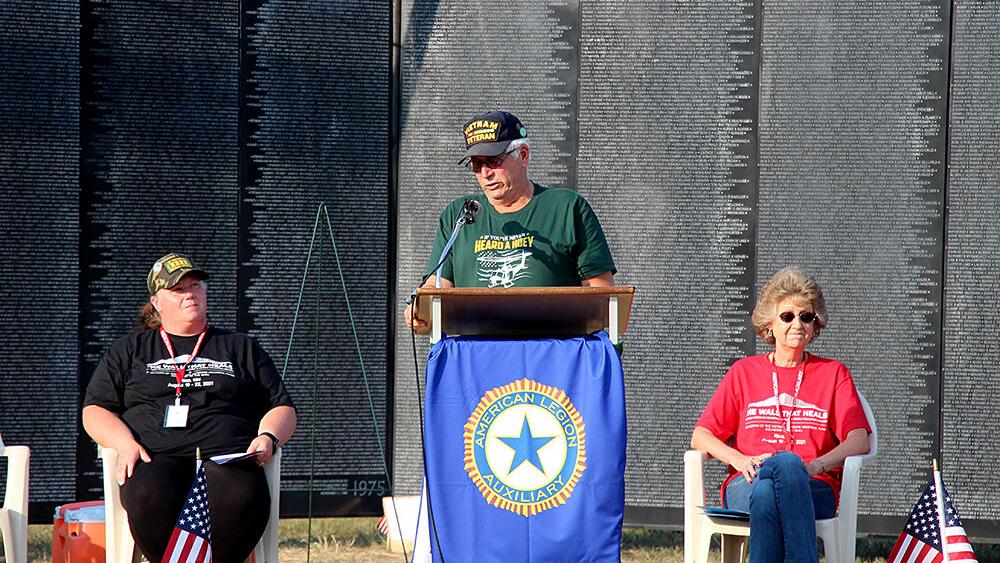 Vietnam veterans receive a warm welcome at home | New
Coralynn Martin opened the welcoming ceremony for Vietnam veterans at the Rice Healing Wall with an emphasis on just two words.
"'Thank you.' Two words. Eight letters, "said Martin, a member of the US Rice Legion Auxiliary Unit 473 and daughter of a Vietnam veteran." We say it all the time, so where's the power, the emotion in it. the "thank you?" When do two words, eight letters earn their stripes as words of gratitude, words of appreciation, words of gratitude? We open our arms and hearts and welcome them all into our homes. not all returned alive, not all returned home whole, and many have not yet returned. "
It was a powerful way to open one of the flagship events of the week-long celebration in Rice, which centered around visiting the Healing Wall. The exhibit is a three-quarter replica of the Vietnam Veterans Memorial in Washington, DC. It travels the country each year and makes 28 stops in 2021. It was at Rice from August 18-22, her only stop in Minnesota this year.
The ceremony helps give Vietnam War veterans the warm welcome they did not receive upon their return from Southeast Asia. Martin pointed out that the men and women who fought in Vietnam displayed "unprecedented" bravery and courage, while enduring great hardship.
"They sacrificed their today so that this nation could have a better future," she said. "Yet when they returned home, they often did not receive the praise they deserved from a nation grateful for their sacrifices. So, I stand here today as a grateful American, and I represent the many grateful Americans who wish they could reach out to you and thank you personally. "
Rice Mayor Brian Skroch, in a brief speech, proclaimed August 18-22 as Vietnam Veterans War Memorial Week in the city of just under 1,300 people. This was followed by a color presentation by members of the Rice American Legion Post 473 and the Star Spangled Banner game. It was capped off by a flyby of two C-130 Hercules aircraft from the 934th Airlift Wing of the US Air Force.
The two keynote speakers for the afternoon were Minnesota Senator Jeff Howe, R-Rockville, and U.S. Army (Retired Sergeant) Bruce Olson, a Rice resident and Vietnam Veteran.
Howe spent 38 years as a member of the United States Armed Forces. As a member of the US Navy, he was deployed once to Iran and made two tours of Iraq. He then joined the Minnesota Army National Guard.
He reflected on how The Healing Wall enables those who served in Vietnam to continue their legacy in their own communities. He said it had been displayed in nearly 700 communities across the country, and the fact that it was in Rice was "a big deal."
"A lot of people can't get to Washington, DC to see the real memorial," Howe told the large crowd gathered at the Rice Elementary playground. "It allows family members to see that the sacrifices made by loved ones are not in vain and that their honor endures. These more than 58,000 courageous men and women made the ultimate sacrifice and are now etched in American history. "
He said the Vietnam War was an important part of the nation's history, when men and women "answered the call to duty and risked their lives to fight for freedom." The downside, he said, was that they were greeted with anger and disrespect at home.
Howe said they were the only veterans in U.S. history to be treated with contempt upon their return. This treatment, he said, has helped 100,000 Vietnamese veterans who committed suicide, mostly due to untreated post-traumatic stress disorder (PTSD).
"Our country has learned a valuable lesson and has made great strides in improving itself, but only thanks to the Vietnam veterans," he said. "… It was the Vietnam veterans who assured us, upon our return from Afghanistan and Iraq, that we were going to be treated well.
"Each name on this wall represents an American hero, and there is a story behind each one, and a legacy that lives on," Howe said.
Olson's story began when he decided to enlist after enlisting in Vietnam. A farm boy from rural Minnesota, he was the grandson of a World War I veteran and the son of a World War II veteran. He received his orders for Vietnam almost immediately.
He and his unit received a rude reception in Vietnam. The aerodrome where they were to land was attacked on their arrival. They must have been running for over an hour before the airfield was cleared.
"It was really something to see when you never really thought about war," Olson said.
Two days after their arrival in January 1968, Olson and his unit received their order for Dong Tam, a place he described as "a pile of sand" on the Mekong Delta. As a team of engineers, their job was to build an airfield.
He said the first few days in Dong Tam went off without incident. It didn't last long, however.
"I had been in the country for two weeks and the '68 Tet offense started," Olson said. "Over there it was called the Mortar Alley. We have had 18 days and nights of continuous mortar. You would get up and the mortars would fall, and when you lay down, they would fall. We basically lived in a bunker most of the time.
He survived the onslaught of the Viet Cong and said the rest of the tour was better. He was due to return home in January 1969 and had even planned a wedding for January 18. But the date he was due to leave has changed. In order to get home to get married, Olson and about 10 other guys in his unit agreed to extend for six months. Their commander (CO) said if they did that he would make sure Olson could return home for his wedding.
He was home for three weeks before he had to return to Vietnam.
"I came back to the team I was on and we were supposed to have this big air base to build," he said. "I came into the business and there wasn't a single person I knew. Well, what's going on? We are back living in rice fields and small tents. The start of the second tour.
A few months later, in April 1969, he and 75 other men were building a road. So far, he said everything has been relatively calm throughout his second tour.
One night he woke up and "could hear the whistles coming in". His business was faced with a surprise mortar barrage that destroyed its communications system from the start.
He said that as engineers they were equipped with M-16s, but "nothing to oppose a mortar attack". His captain was sleeping in a jeep when it all started.
"He ended up sacrificing his life," recalls Olson. "He just got the call for air support so we weren't overwhelmed. The helicopters were there in about 15 minutes, but we lost our company commander that night.
His commander was one of 25 men lost that night, a third of his unit. After that, he said he didn't think he would ever see Minnesota again. All he could do was hope and pray to God that he would make it out alive.
He did and was due to return home – this time for good – in August 1969. He said all was relatively calm when he returned for his wedding a few months earlier. It was very different the second time around.
"When I got home in August 69, it was probably one of the worst things I had to do," Olson said. "They made us change into civilian clothes. We had to go to Oakland Air Force Base, and they were just protesters. They were protesting, calling you all kinds of names.
"We were told on the plane to forget Vietnam, put on our civilian clothes and disappear," he said. "I never got to talk about Vietnam for about 30 years."
He said it was only a few years since he started going to meetings. Through many tears and through the invisible scars he has worn for over 50 years, he was able to stand up and tell his story to The Wall That Heals.
He said none of this would be possible without the support of his wife, Linda, family, friends and God.
"I'm still here after 75 years," Olson said.