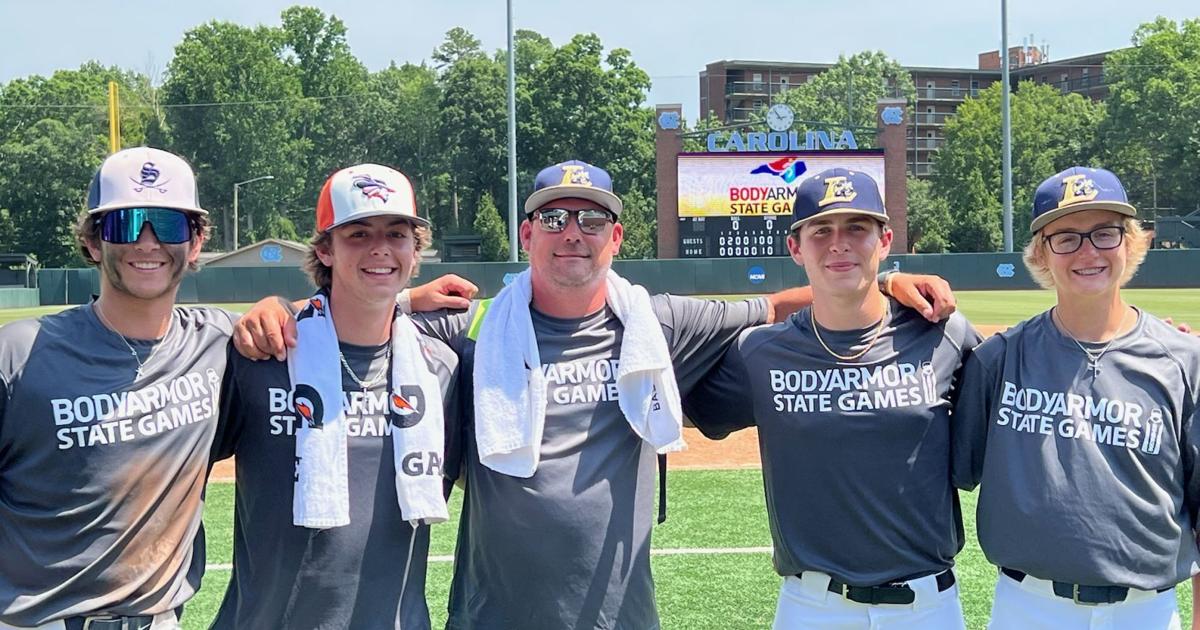 Sandhills team in State Games final | Archives
The North Carolina BODYARMOR State Games did not start well for the Region 4 team, which includes two players each from Lee County and South Lee high schools, as well as head coach Lee Jevon Wade as assistant coach.
However, Region 4 bounced back from a loss in their opener on Tuesday and played their way into Friday night's gold medal game at Boshamer Stadium on the UNC-Chapel Hill campus. The game ended after the press time of today's edition of the Herald, but a full report will appear on Tuesday.
Wade, a regular member of the team's coaching staff representing the Sandhills in the annual State Games high school baseball showcase, has accompanied fellow Yellow Jackets Dylan Kelly and Walker McDuffie to the event this season. Southern Lee players Pierce Bouwman and Kale Scruggs also made the 20-man squad, along with five other Sandhills Athletic Conference players: JD Scarborough and Noah Arnett of 4A state runner-up and co-champion of the SAC Pinecrest; Hunter Huneycutt and Bryant Kimbrell of Scottish SAC co-champion; and Camron Seagraves of Richmond County.
Wade is an assistant to head coach Matthew Hunt (St. Paul's), along with Jarrod Britt (Cape Fear High) and Zach Bingham (Harnett Central).
This year's tournament features eight teams, with the Sandhills assigned to Region 4. The four Eastern teams have been placed in one group and the four Western teams in the other. Region 4 opened Tuesday morning with a game against Region 3, representing the Triangle region, and lost a close game, 9-7.
However, that did not put them out of the race. The four teams turned out to be very equal. On Wednesday afternoon, Region 4 crushed Region 2 (South Coast) by a score of 13-3, and this impressive performance gave the team the point differential advantage in the event of a tiebreaker. However, Region 3 beat Region 1 (Northern Coastal) in the last match of the day and went 2-0, seemingly heading for the final. Regions 4 and 2 were both 1-1 and Region 1 was winless. Region 4 was set for a likely spot in the bronze medal game by beating Region 1, while Region 3 only needed to beat Region 2 to play for gold.
But Thursday didn't turn out that way. Region 4 held off Region 1 3-1 early in the afternoon and looked set to play for bronze. But then Region 2 beat Region 3 10-2 in the very next game.
Regions 2, 3, and 4 all finished 2-1, and since they had battled against each other, it worked on differential. Region 4, at plus-10, won the pool. Region 2 had a worse differential (+1) than Region 3 (+5), but since winning head-to-head they earned the spot in the bronze medal game. The Eastern teams were so well matched that Region 1, despite going 0-3, had a pool differential of only minus-4. They then beat Region 8 (Appalachia) 4-2 in the seventh-place game early Friday.
Region 4 played Region 6 (Greater Charlotte) in the championship game on Friday night. Region 6 won Pool West unbeaten, with a +12 point differential. They beat Region 5 (Piedmont Triad) 11-5 in their last pool game to earn the right to play for gold.