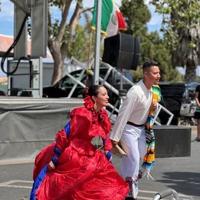 Guadalupe Marks Mexico's Independence Day with Parade and Festivities | Local News
The 99th Mexican Independence Parade in Guadalupe took place on Sunday, a traditional procession along Guadalupe Street that is ingrained in the hearts of the people of this small town.
Mexican independence began on the night of September 15, 1810, when priest Miguel Hidalgo y Costilla held up a banner of the Virgin of Guadalupe and joined the fight against the Spaniards, who had colonized Mexico from 1535.
In Mexico, the celebration begins with "El Grito"—the president or chief authority shouts, waving the Mexican flag like a bell rings: "Mexicans! Long live national independence! Long live the heroes who gave us Homeland and Freedom! Long live Hidalgo! Long live Morelos! Long live Allende! Long live Corregidora! Long live Aldama! Long live Guerrero!