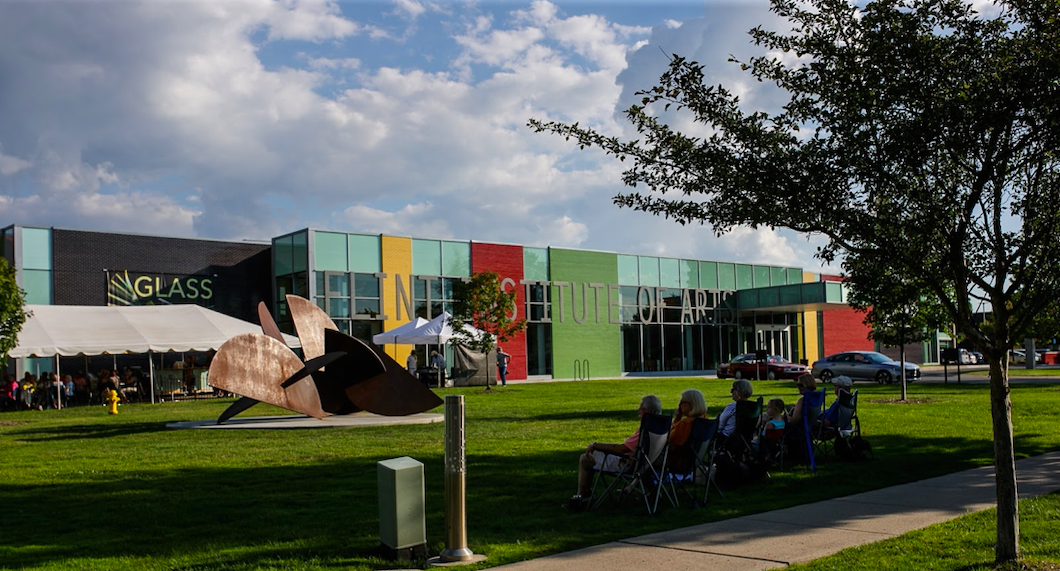 FIA welcomes guests to Friday Family Night on the Lawn
FLINT, Michigan — Warm weather and sunshine greeted guests to "Late Night at the FIA" — a family night filled with music, art and goodies every summer Friday night at the Flint Institute of Arts. On Friday, August 19, FIA and the Flint Institute of Music (FIM) offered free summer entertainment for friends and family outside the Palette Cafe Patio.
Guests were encouraged to bring chairs or lawn blankets to enjoy live entertainment provided by an ensemble from the Flint Symphony Orchestra playing classical music and a few modern favorites.
Children were encouraged to try out different instruments ranging from percussion to string instruments provided by the Flint School of Performing Arts' "Instrumental Playground".
Laughter not only filled the air surrounding the instrument playground, but the children also got to express their artistic abilities and create colorful coasters to take home.
Sponsored by the Health Alliance Plan, free pizza and ice cream were available to guests, along with a full menu and bar from the Palette Cafe Patio.
As part of an ongoing partnership with the FIM's 'Music Around Town' series, 'Late Night at the FIA' kicked off July 1 and will run every Friday until the end of August. The FIA ​​patio opens at 5 p.m., the music starts at 6 p.m.
Dogs are always welcome at "Late Night", and in the event of rain, the event will be moved inside the FIA ​​Hall Isabell.
For more information on this week's event featuring Canja De Boa's Brasilian Music Collective, visit: flintarts.org/event
Scroll below to see highlights from last Friday's Family Fun Night:
A cellist arrives with his instrument as part of the Flint Institute of Music ensemble during "Late Night at the FIA" family night on Friday, August 19, 2022. (Jenifer Veloso | Flintside.com)

A child uses colorful markers to make homemade coasters during family night at "Late Night at the FIA" on Friday, Aug. 19, 2022. (Jenifer Veloso | Flintside.com)


A free ice cream is offered to a child during family night at "Late Night at the FIA" on Friday, August 19, 2022. (Jenifer Veloso | Flintside.com)


Free ice cream is offered to children during family night at "Late Night at the FIA" on Friday, August 19, 2022. (Jenifer Veloso | Flintside.com)


Guests fill the outdoor patio at Palette Cafe during family night at "Late Night at the FIA" on Friday, Aug. 19, 2022. (Jenifer Veloso | Flintside.com)


A guest sits at a table for shade outside the patio at Palette Cafe during family night at "Late Night at the FIA" on Friday, August 19, 2022. (Jenifer Veloso | Flintside.com )


A guest listens to live music played outside during family night at "Late Night at the FIA" on Friday, August 19, 2022. (Jenifer Veloso | Flintside.com)

The FIA ​​is offering free outdoor art for friends and family during Family Night at "Late Night at the FIA" on Friday August 19, 2022. (Jenifer Veloso | Flintside.com)


A child lines up to color a coaster during family night at "Late Night at the FIA" on Friday, Aug. 19, 2022. (Jenifer Veloso | Flintside.com)


The Flint Symphony Orchestra performs live music during Family Night at "Late Night at the FIA" on Friday, August 19, 2022. (Jenifer Veloso | Flintside.com)


The Flint Symphony Orchestra performs live music during Family Night at "Late Night at the FIA" on Friday, August 19, 2022. (Jenifer Veloso | Flintside.com)


The Flint Symphony Orchestra performs live music during Family Night at "Late Night at the FIA" on Friday, August 19, 2022. (Jenifer Veloso | Flintside.com)


The Flint Symphony Orchestra performs live music during Family Night at "Late Night at the FIA" on Friday, August 19, 2022. (Jenifer Veloso | Flintside.com)


The Flint Symphony Orchestra performs live music during Family Night at "Late Night at the FIA" on Friday, August 19, 2022. (Jenifer Veloso | Flintside.com)


A couple take to the lawn to listen to live music during family night at "Late Night at the FIA" on Friday, August 19, 2022. (Jenifer Veloso | Flintside.com)


Guests enjoy drinks outside the Palette Cafe Patio during family night at "Late Night at the FIA" on Friday, August 19, 2022. (Jenifer Veloso | Flintside.com)

Learn more about Flintside:
Whaley Children's Center receives $15,000 grant to improve mental health programs
Hamilton Health Network invites the community to celebrate National Health Center Week
From Glizzy Fest to Concrete Jungle, Flint comes alive with summer gigs