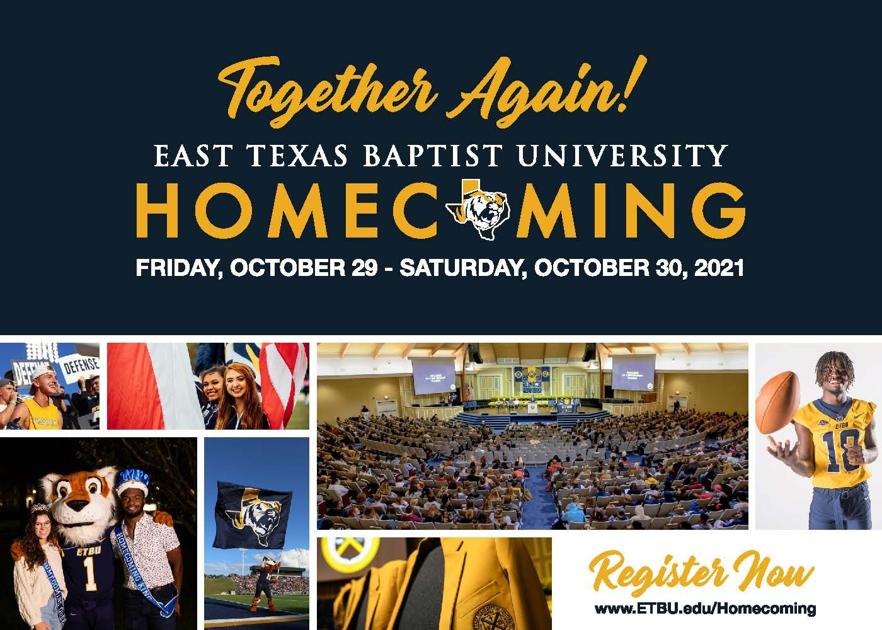 ETBU prepares for the "Together Again" Homecoming festivities October 29-30 | New
East Texas Baptist University invites the community to join the Tiger family for the reunion celebrations from Friday October 29 through Saturday October 30.
Faculty, staff, students, alumni and friends of the University will come together to celebrate the Christ-centered relationships established during their time on the Hill.
The weekend itinerary – a first for the many new Tigers on campus this year – will include a number of events. ETBU's School of Communication and Performing Arts will present You're a Good Man, Charlie Brown, based on the beloved Charles Schultz comic, at Grove Terrace on October 29-30 at 6:30 p.m. Food trucks will be available before both performances. Admission is a donation of dog food to benefit the new Marshall Pet Adoption Center. Participants are encouraged to bring lawn chairs or a blanket, and children are encouraged to wear character costumes.
All Homecoming attendees are also invited to Tiger Family Carnival and Tailgate on Saturday mornings at The Grove on the ETBU campus, where families can enjoy bouncy houses, games, and a free lunch. Meetings of the Decade are scheduled for 10 a.m. in various locations on campus.
Tiger Tales: Story Time with Toby and Taby will take place at 10 a.m. in the Jarret Library. Next, the Tiger Walk is scheduled for 10:30 a.m., when fans gather at The Grove to cheer on the ETBU Tiger Football team to victory as they head to Ornelas Stadium for the game.
We encourage the community to join our ETBU Tigers in the Homecoming football game against the Lutheran University of Texas at 1pm.
The 2021 reunion tribunal is expected to be announced during halftime festivities at Ornelas Stadium on Saturday.