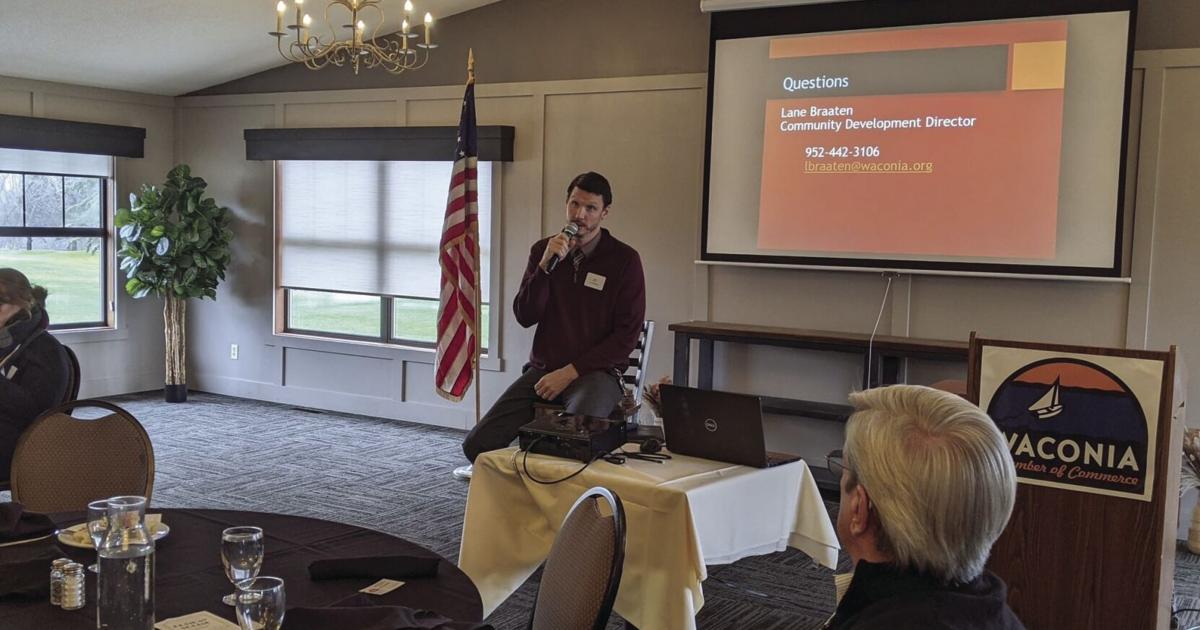 Development of official talks with members of the Waconia chamber | Community
[ad_1]
In which parts of Waconia is development taking place?
That's the short answer Lane Braaten, director of community development, gave to business leaders on November 18 at the November lunch of the Waconia Chamber of Commerce.
It's been a year of go-go in the community, and Braaten then provided an update on recent and future growth and development.
Some 900 housing units have been licensed in the city and are in various stages of development, he said. Here's a breakdown:
Legacy Heights – 21 twin houses under construction on Main Street near Kwik Trip
Woodland Creek – 59 homes under construction in phases south of the Sierra
Shores of Lake Waconia – 37 villas on the lake and 50 houses on the eastern shore of Lake Waconia
Interlakken 8th – 72 single family units reflecting a construction of this development
Orchard Park – 119 houses south of schools on the west side of Waconia
The Fields – 214 single family homes off Waconia Parkway South on what's known as the Burandt property
Waterford Addition – 144 townhouses and 212 single family homes, reflecting the completion of Waterford's development on what is known as the Siegle property.
In terms of business development:
New Kwik Trip slated to open next fall south of Highway 5 near Target
Development on Marketplace Drive: Taco Bell, an Auto Zone auto parts store and 'Sota Shine Care Wash.
Tidal Wave Auto Spa, a new, recently approved car wash north of Walgreens at Olive Street and Highway 5
While the pace of development seems unprecedented, it is actually coming back from the financial recession of 10 to 12 years ago, Braaten explained. The figures also reflect a resurgence in the housing stock after having been extremely limited in recent years.
Residential growth averaged around 114 units per year between 1990 and 2020, but has fallen to a few dozen per year in recent years, Braaten said. Some 160 new housing permits are expected next year, he projects.
Meanwhile, the total number of building permits issued by the city, which includes terraces, renovations and outbuildings, is also increasing. The permits have recently run to around 1,050 per year. The number of permits has already reached 1,400 so far in 2021, Braaten reported.
Other developments on the horizon include the affordable Trails Edge South housing project near Airport Road near Target, 163 market-priced apartments near Industrial Boulevard, and a possible apartment building in the city center where currently sits the American Legion.
Also coming up: a possible new fire station, an inclusive play area in the Waterford development and a project to rebuild downtown infrastructure from 2023.
The city publishes a comprehensive summary of land use every year, Braaten noted. To see the full reports, visit the city's website waconia.org under Planning and Zoning.
[ad_2]