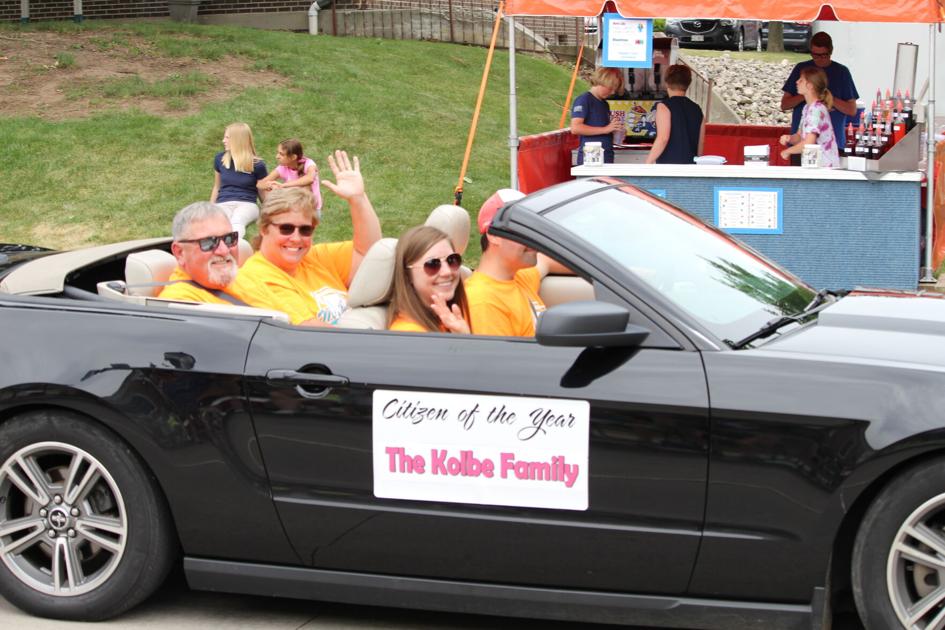 Chilton's Kolbe family honored for "paying it forward" |
[ad_1]
Ron and Sandi Kolbe, their son Luke and his wife Emily took advantage of their busy schedules last Wednesday evening to be honored as Citizens of the Year by the Chilton Chamber of Commerce.
Then he was back at work to put the finishing touches on plans for their annual Matt Kolbe Memorial Tournament to be held this weekend at Nennig Park, as well as their related efforts to have an all-inclusive playground built in the park. in this week's Tri-County News).
It is this type of dedication and selfless work for the betterment of the community that has led several people to nominate the Kolbe family for the Citizen of the Year award.
The Kolbes have said they are obviously not doing what they do for accolades like this award, although they have said they are honored and happy to receive it. Sandi said: "It's very humiliating. I think Chilton is fortunate to have a lot of amazing people who donate their time, talents and resources. I feel like we are just one piece of the puzzle.
They also pointed out that their inspiration for their community service was and still is their late son Matt, who has Down syndrome. Matt was an extremely enthusiastic fan of all of Chilton's sports.
The Matt Kolbe baseball, softball and beanbag tournament started 10 years ago and will be held this weekend, June 25-26 at Nennig Park. Matt's Field of Dreams game takes place on Saturday at 11:30 a.m., giving people of all skill levels a chance to play.
Over the years, tournament funds have gone to a variety of causes and this generosity has been cited by those who nominated the Kolbe family for the Citizen of the Year award.
One of the proposers said, "Ron and Sandi Kolbe are people who have given back to the community in so many ways over the past few years … This baseball tournament brought families together to watch and play the sport Matt loved so much. . This tournament event demonstrates Ron and Sandi's generosity and energy in keeping Matt's legacy alive in this community.
"The annual proceeds from the Fry and the Matt Kolbe Tournament / Benefit are fully donated to the community in a number of ways. Donations were made to the Chilton High School SHARE program, the Chilton School District Special Olympics and New Hope Day Services programs which were all part of Matt's inclusive environments, participation and success.
"High school scholarships are awarded each year to several graduating students who exemplify Matt's personality: acceptance, kindness, selflessness and love. Ron and Sandi also volunteered and donated to the Thanksgiving Day Express. This is only a partial list of the many organizations and individuals within our community who benefit from the Matt Kolbe Benefit Events, all donations to the community and fun at the events.
"Ron and Sandi continue to see the need to keep our local Salvation Army shelves stocked with their annual food drive," said the proponent. "They 'pay it forward' to local families in need at Christmas and during the holidays. Ron and Sandi gave presentations to classes at Chilton High School, sharing their lives as parents of a son with Down's Syndrome. Over the past few years, they have volunteered their time to plan and coordinate Christmas parties for young people with disabilities.
"Throughout the year Ron and Sandi have put in endless hours organizing these events that benefit so many people. Their involvement in our community, by giving back / pouring forward is illustrated by their altruistic, generous and generous acts. "
Another nominee added, "Ron and Sandi are two of the most caring and generous people I know. Their motto has always been "Pay Next" and they most certainly do this all year round. Donations go to the New Hope Center, Chilton Public School Share Program, Chilton Athletic Club, Thanksgiving Day Express, Toys for Tots, Special Olympics, to name just a few of the many organizations and individuals who can. benefit from this great event.
"In addition to the money involved in this annual event, it is the time and effort that Ron and Sandi have devoted with love and grace throughout the year. They are always looking for ideas to make it more successful each year for the benefit of others. Their goal is to include everyone, leaving no one behind.
"The past year has been exceptionally difficult to deliver as much as they can. They organized a huge fry to subsidize part of the lost income from the postponement of the benefit (2020).
[ad_2]