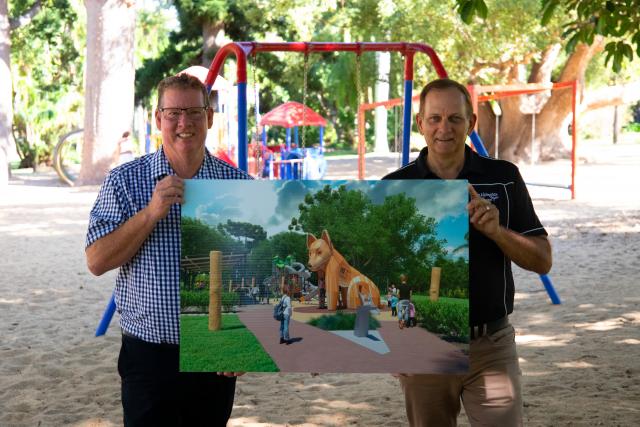 Be wild for the playground – Central Queensland Today
by Khrysti Balanay
The Rockhampton Botanic Gardens playground is getting a facelift after exciting plans were unveiled on Wednesday.
Rockhampton Area Mayor Tony Williams said familiar faces from Rockhampton Zoo inspired the new design, such as Valkyrie the wedge-tailed eagle, Henry the emu, Ernie the dingo and our chimpanzee troupe .
The playground is also expected to feature over 500 features for children of all ages and abilities.
"This new playground will be an incredible addition to one of our region's most beloved attractions," said Mayor Williams.
"The tender for the new playground has been awarded to Urban Play – the same company that designed the award-winning Wyatt's Wonder Web at Kershaw Gardens and the Fitzroy Adventure Playground.
"Now that the concept has been approved, we will embark on the detailed design and construction and hope to have the new playground open before the Christmas holidays."
The project is supported by the Queensland Government, with $1.4 million in funding provided by the Works for Queensland programme.
Local Rockhampton MP Barry O'Rourke said investing in community infrastructure helps create jobs and great community projects.
"Rockhampton Regional Council has received over $43.1 million for community infrastructure projects under the Works for Queensland and Covid Works for Queensland job creation schemes," he said.
"Families and visitors to the area will stay and, if so, play even more, which will be another long-term boost to our economy."
Parks Councilor Cherie Rutherford said she knows families will be thrilled to see the concepts developed for the new playground.
"The Botanical Gardens are a wonderful place to visit for the whole family," said Cr Rutherford.
"This project will go beyond the replacement of existing end-of-life equipment.
"It's about creating a truly special place for our community and our visitors – a place that truly reflects our region.
"I know kids will love seeing some of their favorite zoo faces reflected in this design, and the gear will include rich play options for kids of all ages and abilities."