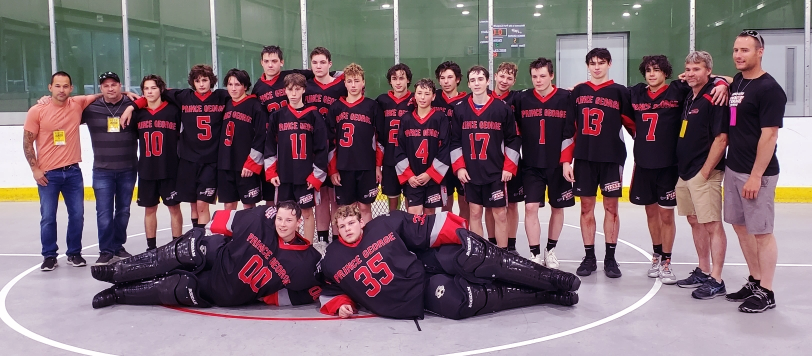 BC Summer Games Offer Rare Home Game Luxury for Local Box Lacrosse Team
A strong performance at the 16U A2 Provincials raises hopes of success at the Games this weekend for the Prince George-based boxla team
Seven lacrosse games in four days imposed the physical limits of the Prince George Posse, but it was worth it.
Playing in the Provincial 16U A2 Box Lacrosse Championship two weekends ago in Port Coquitlam, the Posse missed a goal in the medal round, losing bronze 6-5 to Coquitlam, but the experience gained in that four-day tournament will come in handy for their next challenge this week – the BC Summer Games.
The Posse will form the core team that will represent Zone 8 (Cariboo Northeast) in the eight-team Summer Games tournament that begins Friday at the Kin Centre, one of 18 sporting events taking place in and around town this weekend.
Bolstered by the addition of players from Quesnel and Fort St. John, the Zone 8 team is brimming with talent. All he lacks is experience in the game, making them obvious underdogs taking on the best of the Lower Mainland, Vancouver Island and Thompson-Okanagan lacrosse powerhouses. These selected teams are drawn from representative teams in the most populated areas of the province, and they have geography on their side that allows them the luxury of playing in league during the lacrosse season against teams of similar caliber.
Isolated six or eight hours from their closest opponents, there is no league in northern BC and there was little opportunity to travel this summer to put the Posse/Zone 8 team to the test, with local lacrosse associations wary of planning large tournaments under wraps. of COVID uncertainty. But they still managed to win three of their provincial matches and none of their four losses were crushing.
"Honestly, we could have won it all," Posse/Area 8 head coach Jeff Moleski said. "We lost by one goal in the semi-finals (5-4 against Vancouver) and also by one goal in the bronze medal game. It was a long contested series, we played seven games in four days. We only had two (tournaments) and we didn't play a game for a month and a half before the provincials, so it was difficult.
"It was hard to keep the kids motivated. You train to play, and when the games don't come it makes it difficult. There were hardly any tournaments this year because nobody knew what was happening, and with the logistics, we didn't have anyone to play with. We're strictly limited to tournaments.
Hosting the BC Summer Games gives the guys from Cariboo-Northeast a unique chance to play a home tournament. Moleski said he tried to hold a bantam tournament a few years ago with the same group of players and only two teams signed up.
"Lower Mainland teams don't like to travel, so they kind of have to do that this week," he laughed. "It's going to be a good experience and it's going to really test the skill level of the boys. They'll see teams paying out a pretty fantastic lacrosse. The Island team will be the favourites, I think, and the Vancouver teams will be very strong, and we will have to be at our best to compete.
Cariboo-Northeast has 17 runners and two goalies. Noah Lee and Austen Turner have joined the team from Quesnel, while Gavin Adams, Griffin McCue and Kayden Raabe are reinforcements from Fort St. John.
The remains of Posse are Dalton Barwise, Kael Frederick, Logan Hauk, Jayden Larmand, Cashe Kaban, Everett Muratori, Keaton Nicholson, Nolan Vansickle, Wyatt Elias, Liam Hunter, Cole Malo (Vanderhoof), Jackson Moleski, Brady Mackay, and Cooper Ziler ( Vanderhof). Darcy Nicholson and Don Wittmeier are the assistant coaches.
Coach Moleski says this is the best 15 and 16 year old team the Cariboo Northeast Zone has had in several years and that became evident at the provincial tournament when seven of the Posse players were invited to Junior A training camps.
Prior to pursuing a long professional career in the National Lacrosse League, Moleski played box lacrosse at the 1998 BC Summer Games 24 years ago at Ridge Meadows and his Cariboo-Northeast team n won no matches.
"We blew each other up in every game, the North side don't usually do well," he said. "But I know this year we have probably the best Summer Games team we've ever put together.
"I think we are in on it. Our defense is very strong. We are inexperienced, but our athleticism is among the best. We have the athletes and if we had the playing time we would be among the best A1 team.
The eight teams will train Thursday at the Kin Center from 9 a.m. to 3:30 p.m. This will be the seventh time this season that the Zone 8 team will train together.
Cariboo-Northeast opens the tournament at Kin 1 Friday at 9 a.m. against Fraser River. The Zone 8 team will have two games at Kin 1 on Saturday, first at 9 a.m. against Vancouver Island-Central Coast and then at 2 p.m. against Vancouver-Coastal.
The other group includes Kootenays, Thompson-Okanagan, Fraser Valley and Team Indigenous.
The top teams from each pool after the preliminary round advance to the gold medal game Sunday at 10:00 a.m. Kin 1. The runners-up from each pool play for bronze, also at 10:00 a.m. Sunday at Kin 2 Two-Thirds-Finishers battle for fifth place on Sunday at 8 a.m. at Kin 1 and seventh place will be decided in the same timeslot at Kin 2.